How can I submit my digital artwork?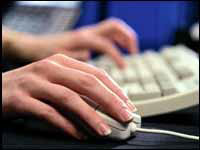 There are 2 ways to submit an order:
1. Website: You can save time by uploading your files directly from our website. Simply click on Place
Order/Submit Files button and create a profile. You should then Place an Order by completely filling out
the order forms, attaching your files and uploading your artwork. You will be notified when
the files finish uploading. Please compress your files using WinZip or Stuffit before uploading
your artwork (JPEG and PDF files excluded). This will make a smaller upload and prevent file
corruption. You will then receive a confirmation e-mail.
2. Mail: You can submit your order through the mail by sending your artwork, a COMPLETED order form, as well
as any proofs or folding mock-ups. We accept files on zip disks (100 MB), CDs and floppy disks. Please clearly identify and
mark any enclosures such as disks, proofs, checks or money orders. All disks must be identified clearly when submitted. Disks
will be returned 30 days after the job is printed. Please write the address that you would like the disk to be returned to on
your disk. Please enclose a folding mock up if your job folds. Do not send us the only copy of your digital files. We will not
be responsible for any misplaced disks or artwork.
*Any changes to your order must be made in writing via fax or e-mail.
*An accredited proof must be purchased or provided if your job is color critical.