Do you guarantee your work?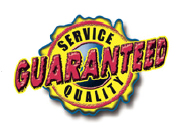 Advanced Color Graphics, unconditionally warrants our product to be better than acceptable commercial standards. We accept full responsibility to produce first quality, full color printed matter. Claims for damages, defects or shortages must be submitted in writing within 10 working days after the delivery of the product.
In the event of a reprint, all of the original order must be returned at the client's expense. If a mistake in the printing process is confirmed by our plant, we will reprint the job or provide you with a credit off a future
order. For legal purposes, the venue for any dispute shall be Broward County, Florida, U.S.A.
All disks containing customer artwork will be kept for 30 days after the job has been received unless specified otherwise on your purchase order.